Healing Through Writing
Aug 12, 2023 1:00PM—2:00PM
Location
Write On, Door County 4210 Juddville Rd. Fish Creek, WI 54212
Cost $0.00
Categories Community Events
Topics All-Genre Writing
This class will create a safe, open space for participants to write about old or new pains or loss or happy moment needing to be brought back in … sadness mirrors joy. Led by various volunteer facilitators, each session will take a different approach to the topic. Time will be given to write and share stories if desired. Weather permitting, some sessions may be held outdoors.
This program is presented free (good will donations accepted at the door) but registration is required. Sessions are held the second Saturday of every month, 1 – 2 pm.
Today's session will be lead by Susan Gould.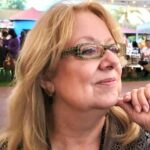 Susan Gould provides group facilitation and personal growth coaching in retreat or workshop settings and has extensive experience leading groups as an independent consultant. She is dedicated to helping others find creative solutions, whether in life or the workplace, through meaningful and fun activities. Susan has experienced the healing power of writing through her own journaling, poetry and memoir projects. Susan has a master's degree in Curriculum & Instruction, specializing in adult education, and is a certified IIN Health Coach and SoulCollage®️Facilitator.