Inspiring People to Write & Share Their Stories

Write On, Door County focuses on the importance of writing, reading, and connecting people through stories. Nestled on a beautiful and inspiring 59-acre campus in the middle of the Door County peninsula, you'll discover classes, programs, and special events year-round for writers of all ages and levels of experience.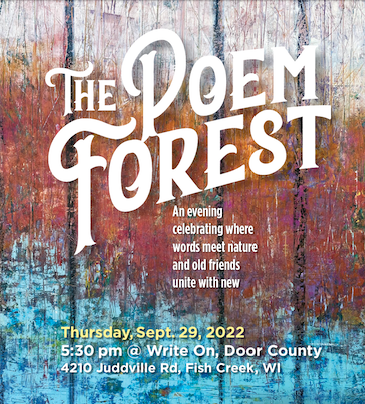 Early bird registration deadline extended to September 13th – get your tickets now!
The evening of Thursday, September 29 will bring together old friends and new on the grounds of Write On, Door County to celebrate another year of programs, residents, community impact, and the power of reading and writing.
This year's featured speaker is Carrie Fountain, 2019 Texas Poet Laureate and author of young adult and children's books.
Borrowing the title of her new book The Poem Forest for our theme, we'll honor the power words and nature share.
Each year, Write On, Door County brings a series of Writing Conferences and Master Classes to the Door County community and beyond. We are thrilled to announce our major events for 2022.
Our inspiring programs are held in person at our Writing Center, at various locations in the community, and online.
Write On provides a place of solitude and reflection on nearly 59 acres of woods, orchards, and meadows nestled between the water of Green Bay and Lake Michigan. Writers can work on a current project and find inspiration for the next without the distractions that hound them at home. Residencies range from one week to one month.
We will begin accepting applications for 2024 residencies on May 1. The deadline for those applications will be April 1, 2023.

Our mission is to inspire and engage writers and readers of all ages, at all stages.
We do this through events and workshops at our Writing Center and within the community, through our residency program, and by offering support to our writers.