"Never judge another," a Native American proverb instructs, "unless you have walked a mile in that one's moccasins." One crucial skill in the practice of the mastery of creative writing is that of empathetic imagination. On one hand, writers are often exhorted to "write what you know." On the other hand, the emerging OWN Voices movement promotes work by those who share a similar background with their subject. This does not mean, as some have charged, that writers should be discouraged from venturing outside of their own gender, racial, language, sexual orientation, and/or (dis)ability culture. What it does suggest is the need to take into account certain sensitivities, responsibilities, and accountabilities when we practice "writing the other." This workshop will share short readings in cross cultural writing, exercises, and discussions about myths and stereotypes, stance and distance, research, cultural immersion, and the use of sensitivity readers.
Class meets online via Zoom. A link to join the class will be sent within 24 hours of the session.
Class meets Thursday, May 18, 6:30 – 8:00 pm Central Time
Class size: Minimum 5. Maximum 15.
Member discount: Member of Write On receive a 10% discount on all classes and workshops. To become a member, please click here. To receive the discount, members must log in to the website using their unique password and enter member10 in the promotion code box. The code is case sensitive.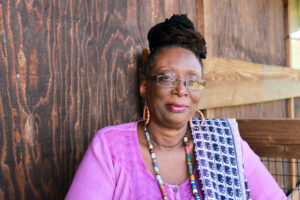 Teaching Artist: Sandra Jackson-Opoku is author of the American Library Association Black Caucus award-winning novel The River Where Blood is Born which was also listed in Best Novels of the Nineties: A Readers Guide. Hot Johnny (and the Women Who Loved Him) was an Essence Magazine Hardcover Fiction Bestseller in 2001. Her fiction, poetry, essays, reviews, travel articles and dramatic works are widely published and produced. They appear in eMerge Magazine, Both Sides: Stories from the Border, Story South, Another Chicago Magazine, New Daughters of Africa, Novus Literary Journal, Africa Risen: A New Era of Speculative Fiction, Taint Taint Taint Literary Journal, the Chicago Humanities Festival, and other outlets. She also coedited Revise the Psalm: Work Celebrating the Writing of Gwendolyn Brooks, a finalist in the Chicago Review of Books Nonfiction Award. Jackson-Opoku's work has earned a US National Endowment for the Arts Fiction Fellowship, Newcity Lit50: Who Really Books in Chicago, an Esteemed Literary Artist Award from the Chicago Department of Cultural Affairs and Special Events, the Lifeline Theatre BIPOC Adaptation Showcase, a Pushcart Prize nomination in fiction, and other awards and honors. She has taught literature and creative writing at Columbia College Chicago,the University of Chicago Writers Studio, the University of Miami, and Chicago State University. She presents workshops, readings, and literary presentations in bookstores, schools, libraries, museums and arts organizations throughout the country and around the world.