Writing the Humorous Personal Essay with Jeremy Owens
Do you have funny personal stories you've been wanting to share? In this session, we'll talk about the various forms of personal funny essays, places to look for inspiration, and tips to turn up the funny in your writing. Isn't it time to laugh? Let's get you on the road to having your friends and readers rolling in their seats!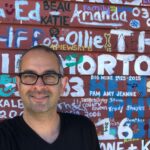 Jeremy Owens is the creator, producer and host of "You're Being Ridiculous," a long running Chicago live-lit/storytelling show most recently featured at Steppenwolf Theatre. He teaches LGBTQ/Queer non-fiction writing and storytelling at Story Studio Chicago. Jeremy is a graduate of The University of Arkansas, Fayetteville and has an MFA in performance from Roosevelt University in Chicago. His solo show, My Big Gay Fairytale, which was scheduled to premiere at Steppenwolf in the summer of 2020, will make its debut soon (Covid permitting).