Writing Seasonal Picture Books
Setting is important in stories for kids, but it's not just about immersing the reader in the where. In this fast-paced, 90-minute session, we'll talk about the when. We–adults AND kids–experience the world in seasons, and those seasons can be more than just backdrops for our stories. We'll talk about how fall, winter, spring, and summer (and the holidays that mark them) can inspire the premise of a book, can drive its plot, and can even enrich its themes. Through seasons we can talk about change, transitions, waiting, growing, and letting go. The presenter will talk about her own seasonal picture books and other favorites, will share tips and strategies for approaching this work, and will lead the group in brief exercises to explore writing their own seasonal stories.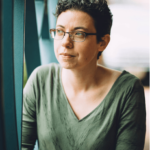 Molly Beth Griffin is the author of several picture books including The Big Leaf Leap, Ten Beautiful Things, and Rhoda's Rock Hunt. She has also written YA, beginning readers, and poetry for adults. A graduate of Hamline University's MFA program in writing for children, Molly teaches at the Loft Literary Center, critiques manuscripts, and hosts a monthly Picture Book Salon. She lives in Minneapolis with her partner and two kids. Her hobbies include hiking, drawing birds, taking photos, collecting agates, eating pastries, and waiting for the mail.