WRITING ON THE DOOR: Nonfiction Intensive with Staci Drouillard
Aug 08, 2023 9:00AM—4:00PM
Location
Write On, Door County 4210 Juddville Rd. Fish Creek, WI 54212
Cost $350.00
Categories Adult Classes & Workshops
DEBWE: WELCOMING OTHERS IN
In the Ojibwe language "debwe" means "to tell the truth." Writing impactful nonfiction begins with a commitment to truth-telling and having the courage and narrative skills to let others in, especially if the work is deeply personal. In this one-day writing intensive, participants who are intersted in writing creative nonfiction–memoir, biography, personal essay, literary journalism, or historical narrative–will explore ways to create a truthful story about real people and events that make room for others. Some questions and topice that will be explored are: 1) Making your lead characters the real, live "stars" of your story; 2) Asking for permission–how to relate a truthful story without causing harm to yourself or others; 3) Doing a deep dive into history–creating a framework for research and knowing when it's time to start writing; 4) Incorporating personal narrative as a way to add humanity, impact, and insight to your work; 5) Using descriptive techniques to create a literary "welcome mat" to your story.
Writers are encouraged to bring their nonfiction works in progress or be prepared to create a new project. Classroom work will be split between group discussion, sharing examples, and focused writing exercises. Reading and sharing your work with others in a collaborative will be encouraged. Workshop participants are asked to bring: 1) a photograph of a person you'd like to write a truthful story about; 2) an inanimate object (smaller than a bread box) that has meaning to you; 3) a newspaper clipping related to a current issue or topic that impacts you or someone close to you; 4) your writing implements of choice.
Class meets Tuesday, August 8, 9 am – 4 pm. Breaks will be scheduled. Individual consultations with the teaching artist will be scheduled for Wednesday, August 9.
Class size: Maximum 12. Minimum 5.
Member discount: Members of Write On receive a 10% discount on all classes and workshops. To become a member, please click here. To receive the discount, members must log in to the website using their unique password and enter member10 in the promotion code box. The code is case sensitive.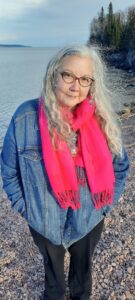 Teaching Artist: Staci Lola Drouillard is a descendant of the Grand Portage Band of Ojibwe. She lives and works in her hometown of Kitchibitobig—Grand Marais, on Minnesota's North Shore of Lake Superior. Her first book Walking the Old Road: A People's History of Chippewa City and the Grand Marais Anishinaabe (UMP, 2019) won the Hamlin Garland Prize in Popular History and the Northeastern Minnesota Book Award for nonfiction and was a finalist for a Minnesota Book Award. Her second book Seven Aunts was released in 2022 (UMP) and was nominated for a 2023 Minnesota Book Award for Memoir and Creative nonfiction. Staci works as a radio producer for WTIP Community Radio and writes the monthly column Nibi Chronicles for Great Lakes Now, a branch of Detroit Public Media.