WRITING ON THE DOOR: Fiction Intensive with Peter Geye
Aug 09, 2023 9:00AM—4:00PM
Location
Write On, Door County 4210 Juddville Rd. Fish Creek, WI 54212
Cost $350.00
Categories Adult Classes & Workshops
Topics Prose
This advanced fiction course is suited for writers interested in developing their craft and bringing a draft of a short story or novel excerpt through a series of exercises and conversations and into fuller form. We'll discuss the big ticket items like character, point of view, setting, voice, and narrative. But we'll also focus on the student's work to find a larger conversation about the nuances and smaller things that only arrive in the work itself. Students should expect a rigorous and lively day of conversation, reading, writing, and altogether deeply engaging though on the subject of fiction and how it works. All genres welcome, but the student should have some considerable practice writing fiction.
Class meets Wednesday, August 9, 9 am – 4 pm. Breaks will be scheduled. Individual consultations with the teaching artist will be scheduled for Thursday, August 10.
Class size: Maximum 12. Minimum 5.
Member discount: Members of Write On receive a 10% discount on all classes and workshops. To become a member, please click here.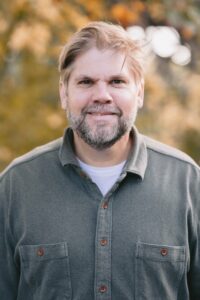 Teaching Artist: Peter Geye is an award-winning author and teacher. His sixth novel will be published in 2024, the first in an extended cycle of novels that will span the history of American expansion and life in the upper Midwest from the time of the Voyageurs through the dawn of the 20th century. He teaches the year-long Novel Writing Project at the Loft Literary Center, in Minneapolis where he lives with his family.