What Kind of Ancestor Do You Want to Be?
Apr 22, 2023 10:30AM—12:00PM
Location
Miller Art Museum 107 S. 4th Ave. Sturgeon Bay, WI 54235
Cost $0.00
Categories Community Events
Topics All-Genre Writing
As we face an ever-more-fragmented world, What Kind of Ancestor Do You Want to Be? demands a return to the force of lineage—to spiritual, social, and ecological connections across time. It sparks a myriad of ageless-yet-urgent questions: How will I be remembered? What traditions do I want to continue? What cycles do I want to break? What new systems do I want to initiate for those yet-to-be-born? How do we endure? Published in association with the Center for Humans and Nature and interweaving essays, interviews, and poetry, this book brings together a thoughtful community of Indigenous and other voices—including Linda Hogan, Wendell Berry, Winona LaDuke, Vandana Shiva, Robin Kimmerer, and Wes Jackson—to explore what we want to give to our descendants. It is an offering to teachers who have come before and to those who will follow, a tool for healing our relationships with ourselves, with each other, and with our most powerful ancestors—the lands and waters that give and sustain all life.
Join author and co-editor Katherine Kassouf Cummings as she addresses the origins of this question and shares selections from the book. From this point of departure, the audience is invited to engage in discussions around the "Ancestor" question as it pertains to human responsibilities to future life. Exploring these questions through conversation as one generative pathway for creating work that connects our hearts and minds and builds community through conversation.
This event is free and open to the public.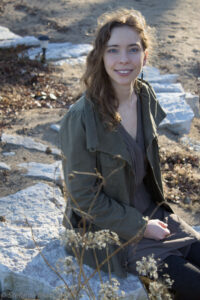 Katherine Kassouf Cummings is a Lebanese-American writer born to and living on the ancestral homelands of the people of the Council of Three Fires (Ojibwe, Potawatomi, and Odawa) as well as the Menominee, Miami, and Ho-Chunk nations. She is co-editor of the book What Kind of Ancestor Do You Want to Be? and serves as Managing Editor at the Center for Humans and Nature, where she leads the Questions for a Resilient Future publication and the Editorial Fellows program. When not at her desk, Katherine shares her passion for movement as a pilates instructor and her passion for music as a harp player; two practices that inform her writing.