The open page always beckons the writer into uncharted territory. What is the role of our writing, whether published or personal, in times of great change when so much in our lives is uncharted? This guided writing experience will explore the shifting terrain of our times as fertile ground for creativity and how writing can help us navigate the uncertainties of a changing world. Participants will be led in writing prompts and creative practices for keeping our hearts, minds and stories open to the power of the Muse when living in a world in flux. 
Class meets online via Zoom. A link to join the class will be sent within 24 hours prior to the session.
Class Size: Maximum 20. Minimum 6.
Member discount: Member of Write On receive a 10% discount on all classes and workshops. To become a member, please click here.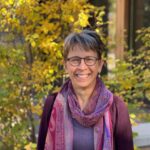 Teaching Artist:
Karen Hering
grew up in eastern Wisconsin and has lived her whole life in the state or just across its borders. Her writing reflects the forests, farms and fields of the state and its freshwater lakes and rivers. An ordained UU minister, she is the author of 
Writing to Wake the Soul: opening the sacred conversation within
 (NY: Atria/Beyond Words, 2013) and 
Trusting Change: Finding Our Way through Personal and Global Change
 (Boston: Skinner House, 2022). She currently lives in St. Paul, Minnesota with her husband and a spring-loaded labradoodle. www.karenhering.com