Dr. Seuss once said, "So the writer who breeds more words than he needs, is making a chore for the reader who reads." In this age of twitter, text, and blogs, brevity is in. Brevity is not only fun and challenging but it can also improve your writing. In this 4-week workshop, we will explore the art of flash fiction, prose poetry and micro-memoir using a variety of fun and engaging prompts to get your imagination going. Be amazed at how much you can say with so little words.
Class meets online via Zoom. A link to join the class will be sent within 24 hours of the session.
Class meets Tuesdays, October 24, 31, November 7, and 14, 6:00 – 8:00 pm Central Time
Class size: Minimum 5. Maximum 12.
Member discount: Members of Write On receive a 10% discount on all classes and workshops. To become a member, please click here. To receive the discount, members must log in to the website using their unique password and enter member10 in the promotion code box. The code is case sensitive.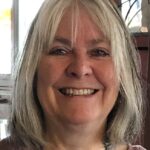 Teaching Artist: Robin Sauerwein is a Minneapolis-based published writer and teacher who is always encouraging others to pick up a pen and write. She has been teaching writing classes for more than 12 years at various locations, including Write On. When she is not wriing, Robin enjoys exploring new places, playing with her grandchildren, making things, and just plain having fun.