Recharge Your Creative Battery 2023 with James Mihaley
Jul 31, 2023 9:00AM—Aug 01, 2023 4:00PM
Location
Write On, Door County 4210 Juddville Rd. Fish Creek, WI 54212
Cost $275.00
Categories Adult Classes & Workshops
Topics All-Genre Writing
Do you know in your heart that you're a writer but you've never pursued the dream? Or are you a seasoned writer who is struggling a bit, trying to rediscover your creative spark? Join us for two fun-filled days of indulging your desire to put words on paper. Participants will be given dynamic writing prompts from the teaching artist to stimulate your imagination. By the end of the retreat, you'll be astounded by what you've produced! All impediments will be removed. No one will be able to convince you that you're not a writer. Sessions will take place throughout Write On's 59-acre property. Participants will find inspiration in the meadow classroom, along the hiking trails, in the old orchards and hardwood forests, and in Norbert Blei's Coop. Regardless of what writing genre you're drawn to, there's a place for you in this retreat.
Class meets in person Monday, July 31, and Tuesday, August 1, 9 am – 4 pm.
Class size: Minimum 6. Maximum 14.
Member discount: Member of Write On receive a 10% discount on all classes and workshops. To become a member, please click here. To receive the discount, members must log in to the website using their unique password and enter member10 in the promotion code box. The code is case sensitive.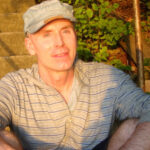 Teaching Artist: James Mihaley is a multi-platform artist. He is the author of You Can't Have My Planet But Take My Brother, Please, a children's novel published by Macmillan. It was named a Bank Street Book of the Year. As a storyteller for adults, James was recently commissioned to write Diamonds from the Rough, a book about a small Wisconsin town boatyard named Palmer Johnson that achieved legendary success. Actively involved in the movie business, James wrote and produced a documentary short film called "Fog" about the homeless crisis. "Fog" won the 2022 Grand Jury Prize at the United Nations Film Festival, held at Stanford University. Bobby Weir, co-founder of the Grateful Dead, contributed original music for the project along with Joe Santriani. Skywalker Sound, owned by George Lucas, did the sound design. When he's not making movies or writing books, James pours his passion for acting into cutting edge social media videos that have appeared on major news channels around the nation. His a yoga and meditation specialist and a big believer in joy.