One Book's Journey with Joanne Nelson
May 31, 2023 12:00PM—1:00PM
Location
Online
Cost $20.00
Categories Adult Classes & Workshops

Join author Joanne Nelson as she walks you through the publication process as she lives it. Over seven months as her publishing company, Vine Leaves Press, prepares her book, My Neglected Gods, for publication, Joanne will talk about the process step by step.
This month, Joanne and author Roz Morris will discuss how to get endorsements, how to be a good literary citizen, and even segue into the mysteries of ghost writing.
SESSION DESCRIPTIONS (register for one or several):
January 25: Joanne will give an overview of the acceptance of her book and be in conversation with her developmental editor Melanie Faith.
February 22: Joanne will be joined by Vine Leaves Press publishing director Amie McCracken, to talk about editing, typesetting, and book production.
March 29: Joanne and Linda Michel-Cassidy discuss the role of copy editing in the publication process, the difference between it and proofreading, and who makes the final decision.
April 26: Joanne will be joined by Vine Leaves Press publisher Jessica Ball to talk about cover design and life behind the scenes at a publishing house.
May 31: Joanne and Roz Morris will discuss how to get endorsements, how to be a good literary citizen, and seque into the mysteries of ghost writing.
July 26: Joanne will launch her nonfiction book, My Neglected Gods.
August 30: Joanne will wrap up the series with a conversation about how the book is doing now that it is out in the world.
Class meets online via Zoom. A link to join the class will be sent within 24 hours of the session.
Sessions meet Wednesdays, January 25, February 22, March 29, April 26, May 31, July 26, and August 30, noon – 1 pm Central Time. Register separately. You do not need to attend all sessions.
Class size: There is no maximum limit.
Member discount: Members of Write On receive a 10% discount on all classes and workshops. To become a member, please click here. To receive the discount, members must log in to the website using their unique password and enter member10 in the promotion code box. The code is case sensitive.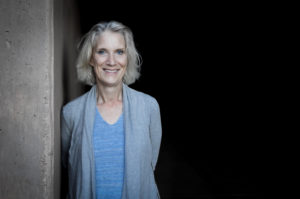 Teaching Artists: Joanne Nelson is the author of This Is How We Leave (Vine Leaves Press). Her ongoing writing practice focuses on creative nonfiction, essays, commentaries on craft, reviews, and the occasional poem. In addition, Joanne is certified by the McLean Meditation Institute as a meditation and mindfulness teacher. The classes, workshops, and retreats that she leads have a solid foundation in the skills and experiences she brings from these eclectic pursuits. Over thirty years of experience as a psychotherapist allows Joanne to combine clinical expertise with her love of teaching to create programs that are research based, practical, and enjoyable. Joanne is a contributor to Lake Effect on 89.7 WUWM, her local NPR affiliate. Her writing appears in anthologies and literary journals such as Brevity, Consequence, and Redivider. She lives in Hartland, Wisconsin where she develops and leads community programs, maintains a psychotherapy practice, and adjuncts. She holds an MFA from the Bennington Writing Seminars and an MSSW from the University of Wisconsin-Madison.
Roz Morris's first job was publishing careers guides for college graduates, telling them how to become accountants and management consultants. She ran away, as fast as possible, to become a novelist. Her stories and essays have earned comparisons with Doris Lessing, Margaret Atwood, Audrey Niffenegger and Ray Bradbury, and her futuristic novel Lifeform Three was longlisted for the World Fantasy Award. She's been a story mentor for award-winning authors and filmmakers, ghostwritten thrillers for Big 5 publishers, nurtured talent for Cornerstones Literary Consultancy and taught Guardian masterclasses in creative writing.