Minding the World: Writing the Natural Moment with Naomi Cohn
Feb 18, 2023 10:00AM—12:00PM
Location
Write On, Door County 4210 Juddville Rd. Fish Creek, WI 54212
Cost $40.00
Categories Adult Classes & Workshops
Topics All-Genre Writing
This workshop combines writing and attending to the natural world as practices that can help both with creativity and well-being.Whether you are seeking to generate new work, find the ways writing and mindfulness can combine to promote well-being, or wanting to find the shape of a project already underway, this workshop welcomes you. We'll talk about ways to take the approach offered in the session and adapt them to your ongoing writing life. We'll be inspired in our work by short writings, mindfulness practices, and exploration of the natural world. No experience (writing or mindfulness) is necessary.
Class meets in person Saturday, February 18, 10 am – noon.
Class size: Maximum 12.  Minimum 5.
Member discount: Member of Write On receive a 10% discount on all classes and workshops. To become a member, please click here.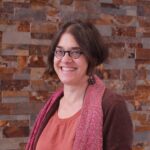 Teaching Artist: Naomi Cohn is a writer and teaching artist with a passion for empowering people's voices and creativity in a wide variety of community settings. Her poetry and essays have appeared in Baltimore Review, Hippocampus, Terrain, Nimrod, Poetry, and elsewhere. Her work has also been featured on NPR and recognized by numerous residencies and grants. Red Dragonfly press published her chapbook Between Nector & Eternity. Her memoir in linked prose poems, The Braille Encyclopedia, is forthcoming from Rose Metal Press in 2024.