Memoir Mondays
Aug 28, 2023 10:00AM—11:00AM
Location
ADRC, 916 N. 14th Ave., Sturgeon Bay, WI 54235
Categories Community Events
Topics Memoir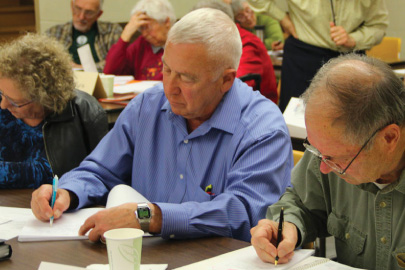 Memoir Mondays are free one-hour creative labs designed for seniors who want to write their life stories. Do you have stories you want to share but you aren't sure how to get started? These labs are perfect for you! Volunteers will provide prompts to help you get started. You can write to the prompt or write about something else that inspires you. Participants are welcome, but not required, to share their writing with others at the end of the hour.
Memoir Mondays are presented weekly throughout the county. The prompt changes monthly, so each location will write to the same prompt during that month. In the event of a holiday or a fifth Monday, no labs are scheduled. The location schedule is:
First Monday of the month: Scandia Village, Sister Bay
Third Monday of the month: Write On, Door County, Fish Creek
Fourth Monday of the month: ADRC, Sturgeon Bay
PLEASE NOTE: FOR TODAY'S SESSION, PLEASE BRING A PHOTOGRAPH WITH YOU! THIS COULD BE A FAMILY PHOTOGRAPH, PHOTOS OF FRIENDS, PHOTOS OF A PLACE YOU LOVE, ANYTHING YOU MIGHT WISH TO WRITE ABOUT.