LOCAL AUTHORS DISCUSS: Writing Poetry
Sep 02, 2023 10:00AM—12:00PM
Location
Write On, Door County 4210 Juddville Rd. Fish Creek, WI 54212
Cost $0.00
Categories Readings
Topics Poetry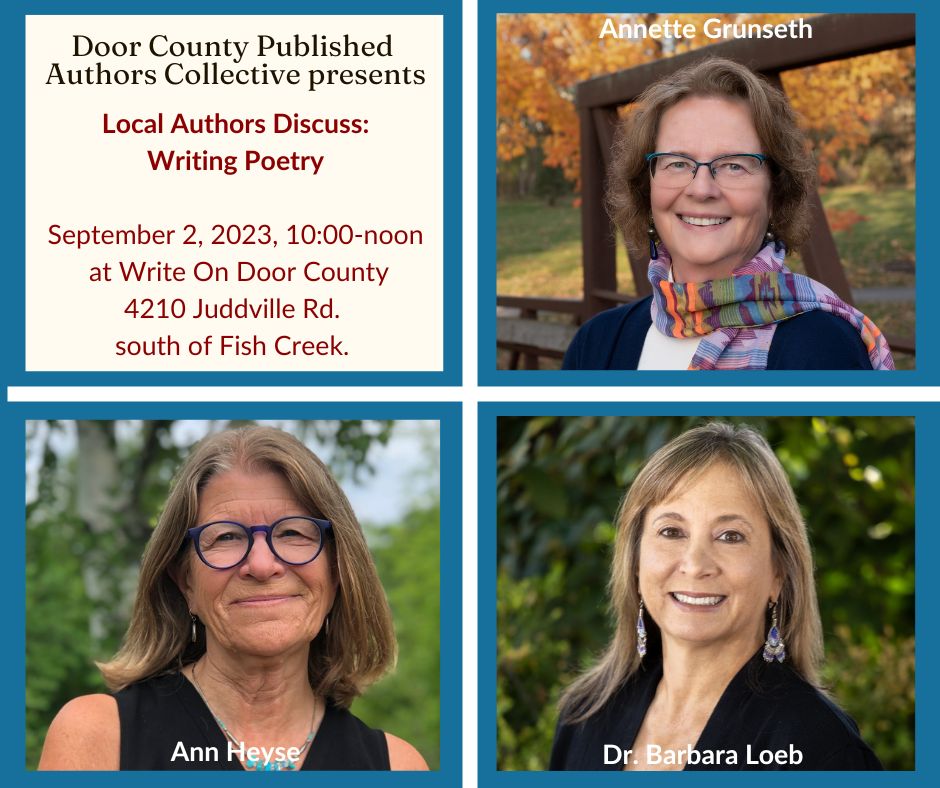 LOCAL AUTHORS DISCUSS is a (mostly!) monthly program featuring members of the Door County Published Authors Collective. Each month features new themes and new authors. This month: Local Authors Discuss Writing Poetry.
Join members of the Door County Published Authors Collective will read from their work and discuss writing poetry. Participating in today's conversation are Annette Langlois Grunseth, Ann Heyse, and Barbara Loeb.
This program is free and open to the public. Book clubs are especially welcome, as are readers and writers of all ages.
Annette Langlois Grunseth is retired from a career in healthcare marketing and public relations. She received the 2022 Hal Prize for poetry and a 2022 Gold Medal from the Military Writers Society of America for her book, Combat and Campus: Writing Through War, a biography of her brother's Vietnam War letters and her concurrent year at UW-Madison during the antiwar protests. She earned a Pushcart prize nomination with her book Becoming Trans-Parent: One Family's Journey of Gender Transition.  Grunseth has been published in Wisconsin People & Ideas, Bramble, The Poeming Pigeon, and contributed to Door County anthologies, Soundings: Door County in Poetry and Halfway to the North Pole. She has received awards from the Wisconsin Fellowship of Poets and The Wisconsin Academy.
Ann Heyse, a retired English teacher, lives in Baileys Harbor where she is never far from the changing colors of Lake Michigan. She is adept at a variety of literary genres in addition to poetry. She is best known in Door County as the author of Good Morning, Door County and Good Night, Door County, two best-selling rhyming picture books for children. She recently published her debut novel, The Light is Ours, a work of historical fiction set in Door County in 1871-72. He book fo poetry, Drink In Sweet Rain, offers a strong thread of hope through poems which are often nature inspired.
During the pandemic, Dr. Barbara Loeb, physician and healthcare consultant, wrote her poetry book How to Save a Life: Healing Power of Poetry sharing her own healing journey and her late mother's artwork. She co-edited and contributed to Reflections of Medicine and Humanity, a collection of writings and artwork by 31 volunteers and physicians in the same career phase, reflecting on their lives both inside and outside of medicine.