LIFE BY WATER: On Mindfulness and Poetic Form with Lauren Carlson
May 06, 2023 1:00PM—2:30PM
Location
Write On, Door County 4210 Juddville Rd. Fish Creek, WI 54212
Cost $0.00
Categories Family Programs
Topics Nature Writing
An intergenerational program for parents/children, grandparents/grandchildren, aunts/uncles/nieces/nephews!
The inagural Lorine Niedecker Fellow, Lauren K. Carlson, will present an interactive poetry workshop on mindfulness, poetic form, and observing the natural world. All ages are welcome and family groups are encouraged.
Using regional poet Lorine Niedecker's work as an example, participants will: 1) receive a presentation on haiku, mindfulness, and objectivist poetry with relation to nature and place; 2) take an observation walk through the meadows and woods at Write On;  3) compose poems with notes taken while observing; 4) share your poems with other attendees.
This program is presented free thanks the generosity of the Lorine Niedecker Fellowship, presented by Write On and the Friends of Lorine Niedecker. As the first recipient of this fellowship, Lauren will spend one week in residence at Write On and one week in residence in Ft. Atkinson, Lorine's hometown. Goodwill donations are gratefully accepted. Though free, registration is required. Please be sure to list the names of all family members attending on the registration form. While geared towards family, we certainly welcome individuals to take part in the program!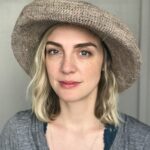 Teaching Artist: Lauren K. Carlson is a mother of three who recently relocated to the northwest coast of Michigan's lower peninsula after spending a decade in the remote prairies of Minnesota. A trained spiritual director, she is a graduate of the Warren Wilson MFA Program for Writers and the author of the chapbook, Animals I Have Killed. Lauren currently serves as the editor for Tinderbox Poetry Journal.