KIDS WOW!: Grades 6 – 8 with Shawn Shiflett
Jul 10, 2023 1:30PM—Jul 14, 2023 4:00PM
Location
Write On, Door County 4210 Juddville Rd. Fish Creek, WI 54212
Cost $165.00
Categories Youth Classes & Workshops
This Story Workshop approach class will explore basic forms used by writers. We'll use letter stories, folktales, story-within-a-story, journal writing, and more to explore our creativity. Students will be introduced to uses of point-of-view (where the story is seen from) as well as the importance of revision. Through word exercises designed to heighten one's story state of mind, to orally sharing story ideas, to in-class writing, students will come away from each session with a more developed writing process and awareness of their own unique voices on the page.
Class meets Monday – Friday, July 10 – 14, 1:30 – 4 pm.
Class size: Minimum 5. Maximum 12.
Member discount: Member of Write On receive a 10% discount on all classes and workshops. To become a member, please click here. To receive the discount, members must log in to the website using their unique password and enter member10 in the promotion code box. The code is case sensitive.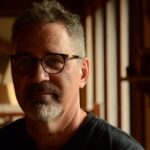 Teaching Artist: Shawn Shiflett is the author of the novel Hidden Place. His second novel, Hey, Liberal!, is about a white boy going to a predominately Black and Latinx high school in Chicago during the late 1960s. It received rave reviews from Booklist, Kirkus Review, The Chicago Tribune, and others. Currently, he is working on My Secret Lives and Other Dreams as well as on a collection of oral histories titled Race in America. He is an Associate Professor at Columbia College Chicago and is on the Chicago Writers Association Board of Directors.