KIDS WOW!: Grades 3 – 5 with Sarah Hammond
Jul 10, 2023 9:00AM—Jul 14, 2023 11:30AM
Location
Write On, Door County 4210 Juddville Rd. Fish Creek, WI 54212
Cost $165.00
Categories Youth Classes & Workshops
Topics All-Genre Writing
Are you an enthusiastic, budding writer in grades 3 – 5? Could you be the next Jason Reynolds or J.K. Rowling? Come along to flex your creativity with author Sarah Hammond and create your own Big Book of Stories! We will learn how to create gripping plots and discover memorable characters by playing games, reading excerpts, and experimenting with a variety of storytelling exercises. As well as learning effective writing tips, there will be the opportunity to express yourself through illustration and crafts and, most importantly, have lots of fun along the way!
THIS SESSION IS NOW FULL
Class meets Monday through Friday, July 10 – 14, 9 – 11:30 am
Class size: Minimum 5. Maximum 12.
Member discount: Member of Write On receive a 10% discount on all classes and workshops. To become a member, please click here. To receive the discount, members must log in to the website using their unique password and enter member10 in the promotion code box. The code is case sensitive.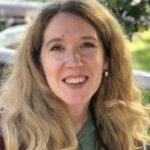 Teaching Artist: Sarah Hammond is an author for young people and has published books for teens and younger readers in the United Kingdom. For almost a decade, Sarah worked as a lawyer in London. However, following her lifelong dream to write fiction, her first teen book was published by Oxford University Press, shortlisted for four awards, and described as "a terrific debut novel" by the Bookseller. A British expat, Sarah loves sharing her love of writing and stories in her new home in La Grange, Illinois. Find out more about her at sarahhammond.org.