In It for the Long Haul: Writing as a Life-Long Commitment and Practice with Gary Eldon Peter
Jun 10, 2023 10:00AM—12:00PM
Location
Write On, Door County 4210 Juddville Rd. Fish Creek, WI 54212
Cost $40.00
Categories Adult Classes & Workshops
Topics All-Genre Writing
We're all familiar with the fabled stories of sudden success in publishing: debut writers "hitting the jackpot" with large advances, movie rights, and multi-book deals. The reality for most writers, of course, is much more complicated. For many, the path from finished manuscript to publication may take years–or even decades. When writing and wanting to publish our work turns into a longer journey, how do we stay motivated and positive? What are effective strategies for staying on track towards realizing our goals? In this workshop, we'll explore writing as a life-long practice and commitment, ways to balance writing with everyday life, and finding and maintaining community with other writers. We'll also focus on options for publishing, including finding an agent, self-publishing, and working with smaller, independent presses. Expect lots of time for writing, brainstorming, reflection, and questions!
Class meets in person: Saturday, June 10th, 10 am – noon
Class size: Limited to 12. Minimum five.
Member Discount: Write On members receive a 10% discount on all classes and workshops. To become a member, please click here. To receive the discount, members must log in to the website using their unique password and enter member10 in the promotion code box. The code is case sensitive.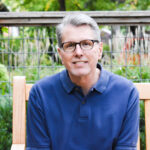 Teaching Artist: Gary Eldon Peter is the author of two works of fiction: Oranges, a linked short story collection, and the novel The Complicated Calculus (and Cows) of Carl Paulsen, winner of the Acheven Book Prize for Young Adult Fiction and the Minnesota Book Award for Young Adult Literature. Oranges received the Gold Medal for LGBTQ+ fiction in the Independent Publisher Book Awards, the Midwest Book Award, and was a finalist for the Minnesota Book Award and the Flannery O'Connor Award for Short Fiction. His work has appeared in numerous literary journals and has been performed on the public radio program Selected Shorts. He earned an MFA from Sarah Lawrence College and is a faculty member at the University of Minnesota.