Great Lakes/Great Books Discussion Group
Mar 02, 2023 10:30AM—12:00PM
Cost $0.00
Categories Community Events
Topics Readers
Great Lakes/Great Books is a monthly discussion group of books that have a focus on the Great Lakes or on water in general. Works of fiction, nonfiction, and more are discussed both in-person and virtually. This month's selection is Gichi Bitobig, Grand Marais: Early Accounts of the Anishinaabeg and the North Shore Fur Trade by Timothy Cochrane.
About Giche Bitobig, Grand Marais: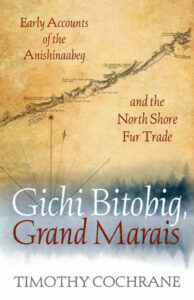 Long after the Anishinaabeg first inhabited and voyaageurs plied Lake Superior's North Shore in Minnesota, and well before the tide of Scandinavian immigrants swept in, Bela Chapman, a cleark of John Jacob Astor's American Fur Company, fetched up in Gichi Bitobig, a stony harbor now known as Grand Marais. Through the year that followed, Chapman recorded his efforts on behalf of Astor's enterprise: setting up a working post to compete with the Hudson Bay Company, establishing trading relationships with the local Anishinaabeg, and steering a crew of African-Anishinaabeg, Yankee, Virginian, and Métis boatmen. The young clerk's journal, and another kept by his successor, George Johnston, provides a window into a story largely lost to history. Using these and other little known documents, Timothy Cochrane recreates the drama that played out in the cold weather months in Grand Marais between 1823 and 1825.