Great Lakes/Great Books Discussion Group
Feb 02, 2023 10:30AM—12:00PM
Location
Write On, Door County 4210 Juddville Rd. Fish Creek, WI 54212
Cost $0.00
Categories Community Events
Topics Readers
Great Lakes/Great Books is a monthly discussion group of books that have a focus on the Great Lakes or on water in general. Works of fiction, nonfiction, and more are discussed both in-person and virtually. This month's selection is Sailor's Logbook: A Season Aboard Great Lakes Freighters by Mark L. Thompson.
About Sailor's Logbook: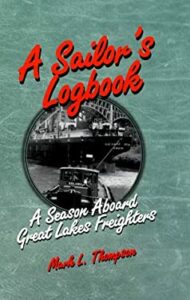 In this firsthand account of life aboard the ships of the Great Lakes, Mark Thompson weaves together the threads of a story that relives a centuries-old tradition. Thompson began his logbook after he reported for duty aboard teh Calcite II at Fraser Shipyard in Superior, Wisconsin, for the 1996 shipping season. Sailor's Logbook is the first such book to chronicle a sailor's life at the end of the twentieth century. Not just a detailing of weather, cargo, and crew relations, this is also an account of the daily lives of a diverse group of crew members as they share their sailing knowledge, "sea stories," and the many memories that accompany the pictures. Although there are ample resources in museums, archival collections, and company files regarding statistical logbook information, Sailor's Logbook details the intricacies of daily life on a Great Lake freighter. Thompson navigates the reader through the waters of the Great Lakes and his own life in this very special narrative.