Saturday, March 4, is National Grammar Day! In celebration, we present Grammar for Writers with Tara DaPra. As formal grammar instruction has fallen out of fashion, many writers feel unsure of their grammar, or simply didn't learn important rules. We will address common punctuation foibles, patterns of suspensive and cumulative sentences, and how syntax and diction create the writer's voice.
Class meets online via Zoom. A link to join the class will be sent within 24 hours of the session.
Class meets Saturday, March 4, 10 – 11:30 am Central Time
Class size: There is no maximum limit. Minimum 10.
Member discount: Member of Write On receive a 10% discount on all classes and workshops. To become a member, please click here.
Teaching Artist: T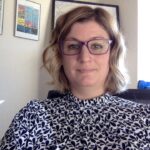 ara DaPra is a lecturer of English and Writing Foundations at the University of Wisconsin-Green Bay. She's certain that the process of writing is a great philosophy for most difficult tasks in work and life. She earned an MFA in Creative Writing at the University of Minnesota-Twin Cities. Her writing has appeared in The Washington Post, Creative Nonfiction, and Inside Higher Education.