From Arm Chair to Being There: Making Travel Writing POP! with Dipika Mukherjee
The world has opened up after the pandemic, and we are traveling again, leaving the quotidian for new adventures. Participants of all genres are welcome in this generative workshop, where a series of short exercises will mine new and old memories, to create vivid and transportive writing.
The participants will work on three exercises, addressing the following:
Starting Strong: Strategies for pulling the readers into your story

The mechanics of vivid and sensual descriptions

Soaring above the cliché and stereotype (especially when writing about the unknown)
Class meets online via Zoom. A link to join the class will be sent within 24 hours of the session.
Class meets Wednesdays, April 10 and 17, 7 – 8:30 pm Central Time
Class size: Minimum 5. Maximum 20.
Member discount: Members of Write On receive a 10% discount on all classes and workshops. To become a member, please click here. To receive the discount, members must log in to the website using their unique password and enter member10 in the promotion code box. The code is case sensitive.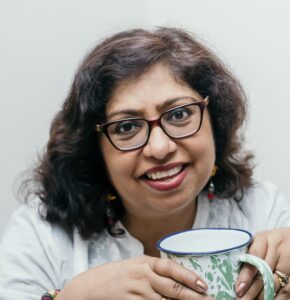 Teaching Artist: Dipika Mukherjee is the author of the novels Shambala Junction and Ode to Broken Things, and the story collection, Rules of Desire. Her work is included in The Best Small Fictions 2019 and appears in World Literature Today, Asia Literary Review, Del Sol Review, and Chicago Quarterly Review, Newsweek, Los Angeles Review of Books, Hemispheres, Orion and more. Her poetry collection, Dialect of Distant Harbors, was published by CavanKerry Press in October 2022 and a collection of travel essays, Writer's Postcards, has been accepted for publication by Penguin Random House (SEA). She teaches at the Graham School at University of Chicago and is core faculty at StoryStudio Chicago. She holds a PhD in English from Texas A&M University.