Form Without Fuss: How to Write Formal Poetry in a Modern Voice with Katie Vagnino
Mar 25, 2023 1:00PM—4:00PM
Location
Write On, Door County 4210 Juddville Rd. Fish Creek, WI 54212
Cost $60.00
Categories Adult Classes & Workshops
Topics Poetry
Formal poetry does NOT have to sound stilted or like it was written two hundred years ago. In this workshop, participants will learn how to infuse classic forms with contemporary syntax and language. The goal: to write poems that feel both timeless and relevant to today's readers. We'll also talk about how to incorporate formal techniques into free verse — to write with form if not necessarily in a traditional form. No prior knowledge of poetic forms required; all levels welcome.
Class meets in person Saturday, March 25, 1 – 4 pm.
Class size: Minimum 5. Maximum 12.
Member discount: Member of Write On receive a 10% discount on all classes and workshops. To become a member, please click here.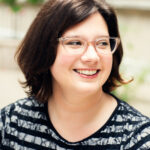 Teaching Artist: Katie Vagnino is a poet, educator, and writer based in Minneapolis, MN. She earned her M.F.A. from Emerson College and has taught creative writing at UW-Eau Claire, the Loft Literary Center, and many other places. Katie has written everything from essays and criticism to opera librettos and exhibition catalogs. Her poems have appeared in more than a dozen literary journals and have been featured on public transit. Her debut poetry collection, Imitation Crab, was published by Finishing Line Press in 2021