Door County Reads: Book Discussion
Jan 31, 2023 10:30AM—12:00PM
Location
Write On, Door County 4210 Juddville Rd. Fish Creek, WI 54212
Cost $0.00
Categories Community Events
Write On is proud to be a partnering organization of Door County Reads. Join us for a discussion of this year's selected book Raft of Stars by Andrew J. Graff. The discussion will be moderated by Write On's Founding and Artistic Director Jerod Santek. Light refreshments will be served.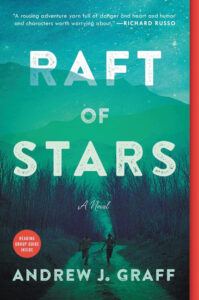 About Raft of Stars:
It's the summer of 1994 in Claypot, Wisconsin, and the lives of ten-year-old Fischer "Fish" Branson and Dale "Bread" Breadwin are shaped by the two fathers they don't talk about. One night, tired of seeing his best friend bruised and terrorized by his no-good dad, Fish takes action. A gunshot rings out and the two boys flee the scene, believing themselves murderers. They head for the woods, where they find their way onto a raft, but the natural terrors of Ironsford Gorge threaten to overwhelm them. Four adults track them into the forest–toward the novel's heart-pounding climax on the edge of the gorge–each one a journey of his or her own: Sherriff Cal, who's having doubts about a life in law enforcement; Tiffany, a poet looking for connection; Fish's mother, Miranda, full of fierce faith; and his grandfather, Teddy, who knows the woods like the back of his hand. This timeless story of loss, hope, and adventure runs like the river itself amide the vividly rendered landscape of the Upper Midwest.