Beguiling Your Readers with Kathleen Ernst
Jan 30, 2024 1:00PM—3:00PM
Location
Write On, Door County 4210 Juddville Rd. Fish Creek, WI 54212
Cost $40.00
Categories Adult Classes & Workshops
Topics Prose
How can a novelist entice readers to keep turning the pages? In this workshop, award-winning writer Kathleen Ernst will share specific strategies for compelling readers to eagerly join a protagonist's journey. Brief writing activities will allow participants to explore possibilities as they draft or refine the first chapter of their own work-in-progress.
Class meets in person Tuesday, January 30, 1 – 3 pm
Class size: Minimum 3. Maximum 10.
Member discount: Members of Write On receive a 10% discount on all classes and workshops. To become a member, please click here. To receive the discount, members must log in to the website using their unique password and enter member10 in the promotion code box. The code is case sensitive.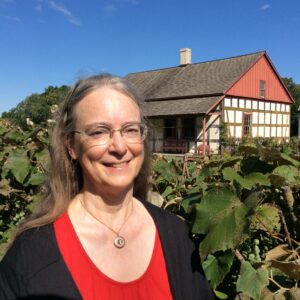 Teaching Artist: Kathleen Ernst is a social historian, educator, and bestselling author. Kathleen's forty-two published books encompass mysteries, historical fiction, poetry, and non-fiction. The Chloe Ellefson Mysteries feature a museum curator whose knowledge of the past helps solve contemporary crimes. Her children's books include twenty titles for American Girl. Honors for Kathleen's work include multiple Agatha nominations, an Edgar nomination, a Lovey Award for Best Traditional Mystery, the American Heritage Women in the Arts Recognition Award from the National Society of the Daughters of the American Revolution, a National Park Service Residency, a Major Achievement Award from the Council for Wisconsin Writers, the Sterling North Legacy Award for Children's Literature, and an Emmy Award for Children's Instructional Programming. Kathleen lives in Middleton, Wisconsin, with her husband Scott (AKA "Mr. Ernst") and feline muse Eliza.