An Evening with Max Garland
Apr 20, 2023 6:30PM—8:00PM
Location
Write On, Door County 4210 Juddville Rd. Fish Creek, WI 54212
Cost $0.00
Categories Readings
Join us to celebrate the publication of Into the Good World Again, the latest collection from Max Garland: poems of grace, resilience, and healing remembrance.
About the Book:
These are poems of remembering, not only the anguish and isolation of the global pandemic, during which most were written, but also remembering as a creative or restorative force. Max Garland's poems walk on a wire of remnant faith that even in the news-glutted age of social media, there's a role for poetry, "…news that Stays news," as one poet put it nearly a century ago. There's an evocative range: from the surrealistic conjurings of a child's mind at bedtime, to the fragmented memory of an aging widow, struggling to recall the details of her life, or if not the details, at least the emotional truth of that life, realizing that for her, "Memory is more like poetry than poetry."
"A new book from Max Garland is always a cause for celebration, and Into the Good World Again delivers all the pleasures that readers expect from this poet—vivid, evocative imagery, musical language, inventive metaphors, and original, striking observations. But these poems are also full of wisdom, something only poets of the first rank–of which Max Garland is one–provide. And the wisdom in this remarkable collection is hard-earned, deeply felt, and often profound."—Larry Watson, author of Montana 1948, Let Him Go, and other novels, and the poetry collection, Late Assignments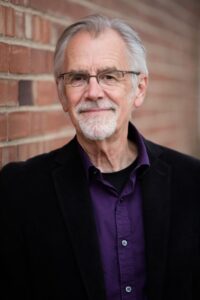 About the Author:
Max Garland's newest book of poems is Into the Good World Again (Spring
2023). Previous books include The Word We Used for It, winner of the
Brittingham Poetry Prize, The Postal Confessions, winner of the Juniper Prize, and Hunger Wide as Heaven, winner of the Cleveland State Poetry Prize. He has received an NEA Poetry Fellowship, Michener Fiction fellowship, Bush Artist Fellowship, inclusion in Best American Short Stories, and fellowships in poetry and fiction from the Wisconsin Arts Board. Born and raised in Kentucky, where he worked as a rural letter carrier on the route where he was born, he is Professor Emeritus at UW-Eau Claire, and is the former Poet Laureate of Wisconsin.