What is the Washington Island Literary Festival?
The Washington Island Literary Festival is a moveable feast of writing, reading, discussion, and thought about the written word. Writers' workshops, author panels and presentations, readings and parties are scheduled at various quaint, historic and beautiful venues around the Island.
Over the years, our Festival has presented such novelists, poets, and nonfiction writers as Lesley Nneka Arimah, Kimberly Blaeser, Bonnie Jo Campbell, Dan Egan, Jeff Goodell, Jane Hamilton, Rebecca Makkai, Bao Phi, Scott Russell Sanders, Megan Stielstra, and Luis Alberto Urrea.
Participants have a unique opportunity to share time with prominent authors and dedicated readers in the intimate, friendly setting of Washington Island, a half-hour by ferry from the Door County mainland, in September's color and warmth.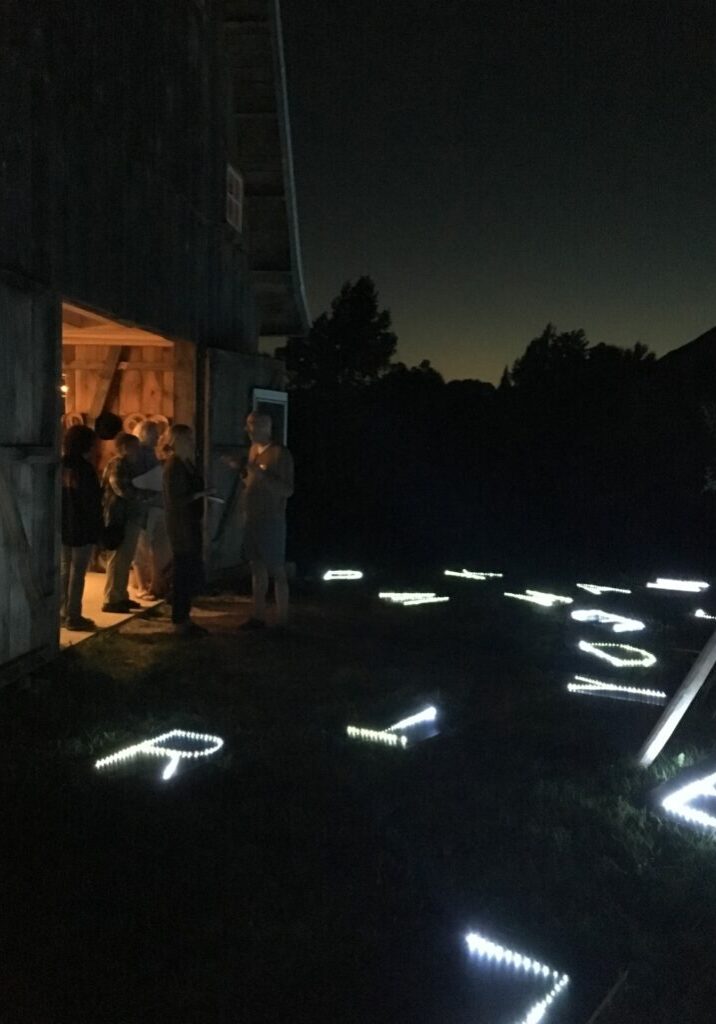 All our programs are small and intimate; this is our intention and our charm.  Attendance at the Festival is limited to about 150 people. This is a comfortable house for the Trueblood Performing Arts Center, a fully-equipped facility which is the Festival's home. Offering inns and guesthouses, beaches and beautiful byways to explore, and eateries which may feature local produce from organic Island farms, Washington Island is a permanent home to 700 residents. During "The Season," it swells to host thousands of visitors and summer residents.
Our Festival's September dates provide the perfect "wind-down" set of days: an opportunity to enjoy the Island after the season has died down, as fall's colors begin to tinge the landscape with peaceful beauty.
The History of Washington Island Literary Festival
Though launched officially in 2013, Washington Island's literary festival (WILF) had been the dream of an individual for some time. Avid reader, former RN, and proprietor of Islandtime Books and More since 2004, Kathleen Dixon acquired a second home in Key West, Florida, where the Key West Literary Seminar had been happening annually since 1983. Inspired by the event's mission of promoting literary works and preserving the culture of a beautiful island, Kathleen envisioned the same sort of event and mission for Washington Island.
At the time, local literary enthusiast Helene Meyer was employed at Islandtime, "working for books" instead of a salary. Helene's husband, the late Gene Meyer, often assisted by fetching book shipments from the ferry dock. When Helene visited Kathleen in Key West and attended the Key West event in 2009, the dream of a Washington Island festival dedicated to reading and writing became much more, and planning began.
A bequest from Gene Meyer's estate provided financial support for WILF's 2013 debut, with Helene as a chief volunteer and general emcee. Trueblood Performing Arts Center (TPAC) sponsored the event from the get-go, providing a beautiful, comfortable venue for authors and audience and a backstage area for book sales. Early on, Besty Wallman (then managing director of the TPAC) nurtured the event, securing additional venues for workshops and housing for featured authors, crafting the festival's evolving structure, and getting the word out through marketing. A host of additional volunteers stepped up and continues to help every year, displaying the communal spirit that is a hallmark of Washington Island.
With the founding of Write On Door County in 2014, Executive Director Jerod Santek joined the festival committee, bringing with him valuable experience securing and working with authors. Islandtime Books and More changed hands in 2015, becoming Fair Isle Books under the proprietorship of Deb Wayman, with the bookstore continuing as a hub for the annual festival. Elizabeth Evans Sachs, who has moderated panels and offered workshops since the early festival days, became chair of the committee with the 2017 event and now continues as co-chair, with Karen Yancey, who has long provided PR for the Festival.   
The WILF's program continues to evolve. A creative lab, initiated by Elizabeth Sachs and enacted by committee member and island resident Alessandra Rolffs for 2018, and free of charge, takes place on Thursday. Craft workshops for writers and readers happen on Friday prior to the evening reception that was originally the kick-off. An open-mic reading gives attendees a chance to share words from their writing outside the festival or produced during the creative lab or a Friday class. Local writers are often featured with Saturday night banquet readings or at the Sunday brunch that closes out the event. 
Always dedicated to a particular theme with authors selected to provide in-depth thinking on that theme via their published works, past themes have included "Rooted in the Heartland: Themes of Family," and "Spirit of Place: Literature of the Land and Sea." Our featured authors are local, regional, and national.  As one attendee remarked in 2018, WILF provides a chance for "intimate engagement with world-class authors."  
In 2018, the literary festival committee announced the creation of a Writer's Walk on the island that will feature author's quotes from each of the literary festival on natural island stones throughout the island that may be visited by foot, bike, or car.  A brochure about the featured authors and maps of the rock's locations will be available in the Visitor's Center.
Like the Key West event that inspired our own festival, the Washington Island Literary Festival showcases its gorgeous locale, often drawing authors and attendees who travel "north of the tension line" for the very first time-to immerse themselves in a weekend that celebrates the joys of literature in a beautiful place.