THURSDAY, SEPTEMBER 29, 2022 AT 5:30 PM
2019 Texas Poet Laureate and author of young adult and children's books
Naomi Shihab Nye, previous Write On, Door County resident and beloved friend of the organization, says of our featured guest:
"Carrie Fountain writes wondrous poems of such transporting movement and time-depth, we could all be everywhere we've ever loved, teenagers again, or a hundred years from now, sky-shimmering, containing it all."

The evening also borrows the title of Fountain's new children's book, "The Poem Forest," for our theme. The book tells the tale of a U.S. Poet Laureate who spent 40 years planting the world's most comprehensive palm tree forest – and then gave it all away.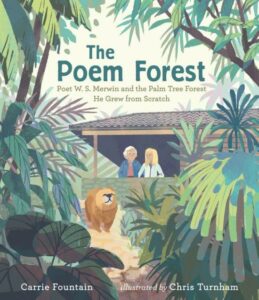 "Forestscape" by Ginnie Cappaert will be available for purchase at the Gala during an exclusive silent auction throughout the evening.
Proceeds support Write On, Door County's programs. Cappaert is represented locally at Edgewood Orchard Galleries and Cappaert Contemporary Gallery.
Thank You to Our Generous Gala Sponsors
Al Johnson's Swedish Restaurant & Butik has long had the reputation as "the restaurant with the goats on the roof."
It's a place that tourists flock to, hoping to capture that perfect goat pic while they wait their turn in the ever-present line for Swedish pancakes served up by waitresses in dirndls.
But, for people who live in Door County, Al's has always been much more than just "the restaurant with the goats on the roof." Owned and operated by the Johnson family, the business has supported the community and culture of this place we call home in countless ways over the years.
Write On, Door County thanks Al Johnson's for their generous support of the arts and humanities over the years, and specifically the support of our 2022 Fall Gala.
Two opportunities still available.
One opportunity still available.
Seven opportunities still available.
More information about sponsoring the 2022 Annual Fall Gala is available by contacting event co-chair Allison Vroman at 906-362-3017 or allison.vroman@gmail.com.