THURSDAY, SEPTEMBER 29, 2022 AT 5:30 PM
Only a few tickets remain, get yours now!
2013-14 Wisconsin Poet Laureate and songwriter/musician
Max Garland is the author of The Word We Used for It, winner of the 2017-18 Brittingham Poetry Prize. Other books include The Postal Confessions, winner of the Juniper Prize for Poetry, and Hunger Wide as Heaven, which won the Cleveland State Poetry Center Open Competition.
Born and raised in western Kentucky, Garland worked for nearly a decade as a rural letter carrier on the route where he was born, where his parents and grandparents lived, and the route his grandfather once delivered, an experience that laid the foundation for his first book of poems, The Postal Confessions.
Garland served as Poet Laureate of Wisconsin for the years 2013 and 2014, during which he traveled nearly 20,000 miles across the state as an advocate for poetry and the creative imagination, in support of the creative arts in public education, and encouraging wider access and participation in the arts for people of all ages.
Garland replaces Carrie Fountain who is unable to appear due to health concerns.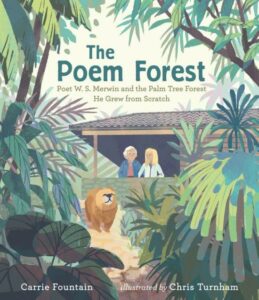 "Forestscape" by Ginnie Cappaert will be available for purchase at the Gala during an exclusive silent auction throughout the evening.
Proceeds support Write On, Door County's programs. Cappaert is represented locally at Edgewood Orchard Galleries and Cappaert Contemporary Gallery.
Thank You to Our Generous Gala Sponsors
Al Johnson's Swedish Restaurant & Butik has long had the reputation as "the restaurant with the goats on the roof."
It's a place that tourists flock to, hoping to capture that perfect goat pic while they wait their turn in the ever-present line for Swedish pancakes served up by waitresses in dirndls.
But, for people who live in Door County, Al's has always been much more than just "the restaurant with the goats on the roof." Owned and operated by the Johnson family, the business has supported the community and culture of this place we call home in countless ways over the years.
Write On, Door County thanks Al Johnson's for their generous support of the arts and humanities over the years, and specifically the support of our 2022 Fall Gala.
Two opportunities still available.
One opportunity still available.
Seven opportunities still available.
More information about sponsoring the 2022 Annual Fall Gala is available by contacting event co-chair Allison Vroman at 906-362-3017 or allison.vroman@gmail.com.